As an entrepreneur or small business owner, you know how important it is to have an effective website. You need a website that will not only draw in potential customers but also turn those visitors into paying customers. But how do you transform your site into a money-making website? 
Creating a successful website involves more than just throwing up some information and hoping for the best. Fortunately, here are seven simple steps that you can take to transform your website into the money-making website it was intended to be! 
Step 1 to a Money-Making Website:
Fix Your Header – Have you ever arrived at a website, but had no idea what the company offered or why you were there? Don't make the mistake of trying to be clever and cute. Today's website visitors are savvy..and impatient. A confusing header can cost your business potential customers. A great header, on the other hand, is essential if you want your website to be successful.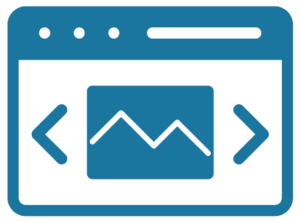 A well-crafted header should have several components. First, it should contain a clear and simple statement that tells the customer what you do. More importantly, it should describe how it helps improve their life such as saving time or simplifying their life. 
Header Text
Keep this statement short and concise, ideally something they can read within three seconds. Visitors will quickly grasp the value you offer without having to invest too much time in reading. Avoid motivational messages and images as they aren't always clear without context.
Header Image
Your header image should also convey clearly and directly what your business does. This will help ensure that people know immediately what type of services or products you offer when they land on your page for the first time. 
Call-To-Action (CTA)
Also important, include a call-to-action button in the header so visitors can easily access more information. What products does your business offer or where can they get more information. Don't assume visitors will do this on their own. You have seconds to grab their attention so make it easy for visitors to engage with your business. This can be the difference between nurturing a new customer or losing a disengaged visitor to your competition.
Finally, when crafting a great header, don't forget about SEO optimization! An easy way to optimize your website is to include relevant keywords in both the text portion of the header as well as any images names and "alt text" used in the hero image section. Doing this will ensure that search engines can prioritize your website for topics related to what your business offers. This will increase your visibility and bring more eyes to your site!
Step 2 to a Money-Making Website: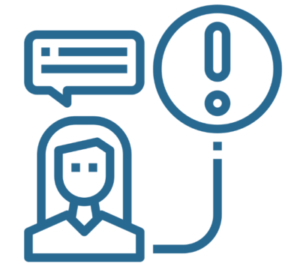 Talk about Your Customers' Problems – Before any customer will buy from you, they need to know that their problem can be solved by you. When done right, highlighting customer problems on your website can be an effective way to attract new customers and increase sales for your business offerings. It allows potential buyers to see firsthand how their specific challenges can be solved by investing in what you have created.
Real Solutions to Real Problems
When talking about customer problems on your website, make sure that you provide real-life solutions. Examples of how these solutions have worked for other people in similar situations is key. This will give potential customers confidence in knowing that others have succeeded using these solutions before. It follows if they follow suit, they can expect positive results, too. Additionally, providing practical tips can go a long way toward building trust with readers. It shows them why they should invest in your product or service over someone else's offering.  
Watch Your Tone 
Also, when you're talking about the challenges faced by your customers, it's important to be mindful of your tone. You don't want to come across as arrogant or condescending. Instead, try to be empathetic and understanding. Showing that you truly understand and care about their struggles will make them more likely to trust you. 
Step 3 to a Money-Making Website:
Give Your Customers a Plan – Once customers understand their problem and how it can be solved, they need to know next steps. Create a clear plan so they know exactly what steps they should take to purchase from you.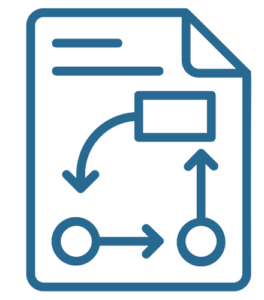 It's important that you give customers an easy head start with your business by giving them a plan that takes them from Point A to Point B with ease. Create a straightforward plan, complete with helpful steps, and back it up with a clever title (e.g., "15 Minutes to Fabulous" makeover," "Design Dazzle in a Day" home refresh, or "Love It and Leaf It" fall clean-up). 
Take the guesswork out of getting started by guiding customers through 3-4 simple steps. This will give customers confidence to purchase from you, knowing that there is a simple, yet effective plan.
Make it simple and make it efficient – get customers onboard quickly and easily!
Step 4 to a Money-Making Website:
Fix Your Images – Visuals are extremely important when it comes to website design. They can make or break the success of your site! Make sure all of the images on your site are high quality and relevant to what you're selling. Don't overload visitors with too many visuals either—keep it simple yet eye-catching!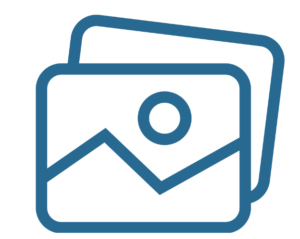 Adding visuals to your business website may seem like a no-brainer. But don't make the same mistake many do and think any image will do. Choosing the right images is important for referencing the success customers can expect.  
And don't be afraid to put a few friendly faces on there. People are usually drawn to emotions first and facts second. Show images of happy customers engaging with your business.
Finally, leave those annoying rotating sliders out of the picture. They take a lot of time to download and often dilute or even confuse your message. If it's absolutely critical to show rotating images, keep your text (aka, your message) the same.   
Personal Note
There is an HVAC and plumbing service that my family uses for our home. Their website and service trucks show images of friendly service staff and a tagline "We're the good guys." They are not the lowest cost option and in fact their prices are on the upper end. However, when they come to your home, they immediately put on protective shoe covers, showing they value our home. Every one of their service staff who has visited our home has always been a "good guy (or gal)." They have built up a well-earned reputation of trustworthiness. This "customer for life" is happy to pay for their service every time because I trust them with our home. 
Step 5 to a Money-Making Website:
Position the Customer as the Hero – It's all about making your customer feel like the hero of their own story when they interact with  you. Showcase stories from satisfied customers or feature customer testimonials on your site. This will help build trust between you and potential buyers, which is key for making sales online. 

Making your customers feel like heroes is essential to building relationships and making those all-important sales! Think of yourself as the hero's mentor or guide, providing advice through understanding and expertise. You want to be viewed as authoritative, yet empathetic. And when prospects want proof, they need not to look any further than customer testimonials. Tales of satisfaction are invaluable for establishing trust. Your site should be full of stories from pleased patrons to give visitors the confidence to make a purchase. Don't forget: being a mentor starts with knowing who you're helping! 
Step 6 to a Money-Making Website:
Create a Lead Magnet – Do you want to build an always-increasing customer base without breaking the bank? Then look no further than to create a lead magnet! A lead magnet is something of value to your website visitors that captures leads for future marketing campaigns. This could be an ebook, discount code, coupon code etc. It is something that encourages people to sign up for further communication with your company. This will ensure that even if someone doesn't purchase immediately, there's still potential for them to become repeat customers.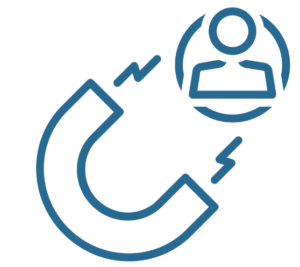 Lead magnets are a great way to engage with your website visitors and tempt them into trusting your brand. Don't worry about alienating potential customers, because this isn't bribery (well… not exactly!). Just make sure that there's potential for future sales if they choose not to buy right away. 
Our Go-To
We use Systeme.io to collect our website leads and segment our customers. It is a robust, simple to use marketing platform that is free up to 2,000 contacts. We also use it as a website page builder for our 1 to 2-page customer websites. Check it out if you are looking for an all-in-one marketing platform solution. 
Step 7 to a Money-Making Website:
Add a Marketing Funnel – Now that you are developing your mailing list with your lead magnet you're ready to add a marketing funnel to your website. So what is a marketing funnel, exactly?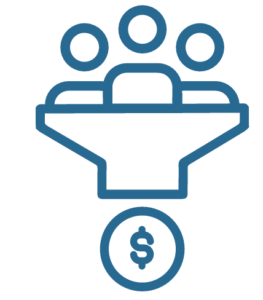 A marketing funnel is a path an individual takes from being someone who visits your website for the first time all the way through their journey towards becoming a paying customer. This includes nurturing prospects through personalized emails, automated messages tailored specifically for each customer's needs, and other tactics such as webinars, lead magnets, and more. The goal is to move potential customers from one stage of the funnel to the next until they become paying customers.
To create an effective funnel, you need to understand what motivates each prospect and how you can use that motivation to guide them along their journey. For example, if you're selling an online course on web design, you may need to offer different incentives at different stages of the funnel depending on where each customer is in their journey. 
If someone is just starting out with web design and doesn't have any experience yet, then providing them with free resources and tutorials might be enough incentive for them to start working on their project. On the other hand, if someone has already taken some courses but still feels lost when it comes to designing websites, then providing them with more advanced tutorials or even offering one-on-one coaching sessions could give them the extra push they need in order to become a paying customer.
Funnel Benefits
Having a marketing funnel on your website benefits both you and your customers. It enables potential customers to progress through stages until eventually becoming paying customers while also allowing you to keep track of where each customer is in their journey towards becoming a paying customer – this helps ensure that no one falls through the cracks! 
Additionally, it allows you to customize offers based on where each customer is in their journey, which ensures that everyone gets exactly what they need when they need it most! Ultimately, having a funnel on your site will help build trust between you and future clients – something which can only benefit both parties involved! 
We use Systeme.io to build our marketing funnels, too. It has the functionality of all of the other funnel builders at a fraction of the cost. Plus, it does it as an all-in-one platform. Forget about needing different software for your website, email collection and funnel-building, Systeme.io does it all, plus a lot more.
Final Thoughts on Your Money-Making Sales Machine 
Implementing these seven steps will most certainly transform your website into a money-making machine. It may seem overwhelming at first, but it doesn't have to be! With careful planning and execution of these strategies—plus a little dose of patience—you'll soon see results from turning visitors into paying customers thanks to this effective website design strategy! 
Say goodby to the virtual brochure that does nothing to grow your business and hello to your new money-making sales machine! By following these steps, you will be well on your way toward growing your business and leveraging your website with technology that will further automate your marketing!  
So what are you waiting for? Get started creating your money-making website site today!